Our ECO Team
Rich in skill, talent, and some of the most knowledgeable people you'll meet. These are the folks who make all of this happen, the people who make our plant nursery the best it can be for all our customers.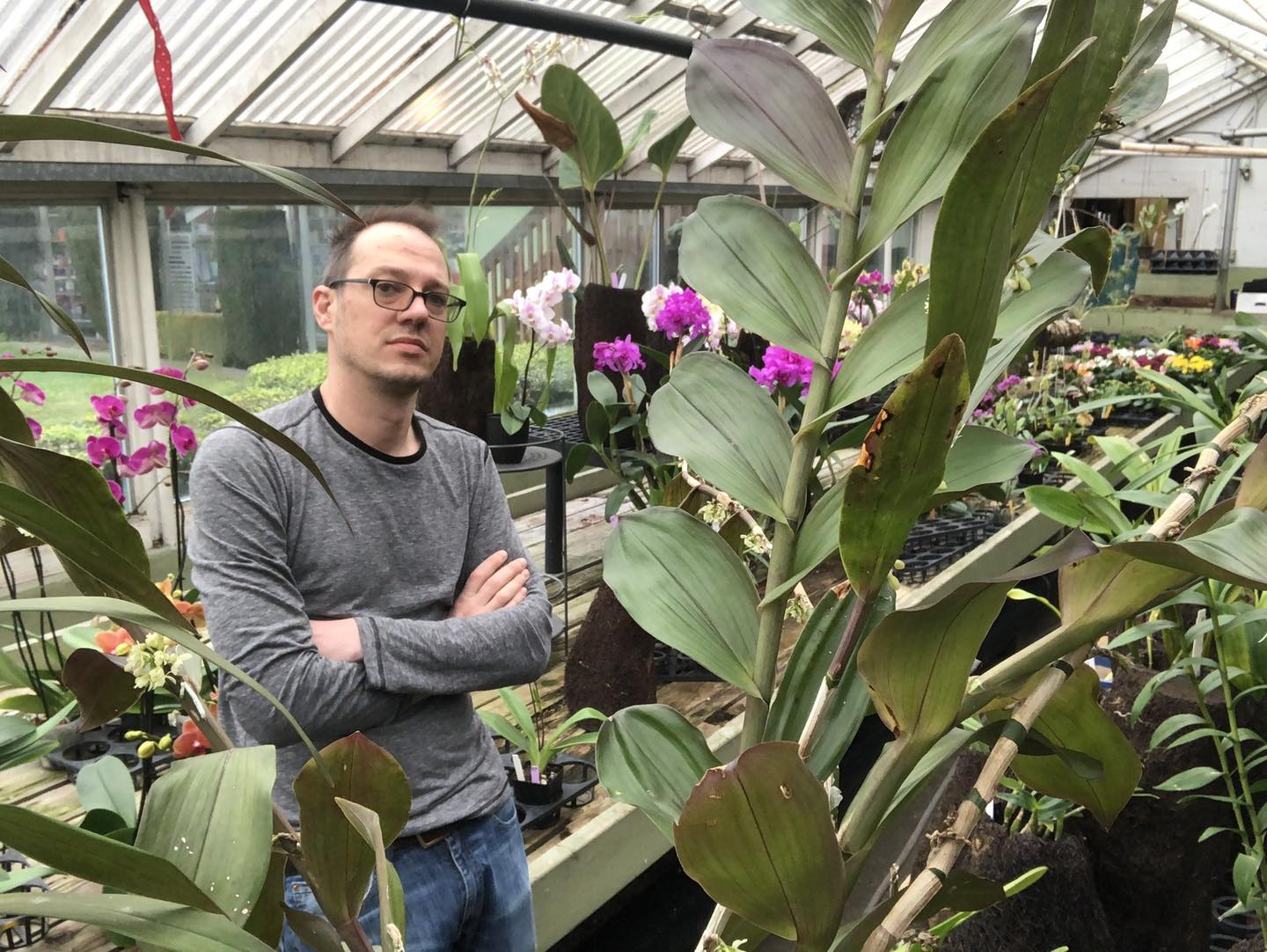 Joe, Owner of ECO
The mastermind of it all. This is the man responsible for cultivating the largest retail selection of orchids to the PNW, and is regarded in our little section of the world as the STOK, aka the South Tacoma Orchid King. When he's not busy playing Risk, he's out picking up plants, delivering wholesale orders, and training his young proteges with the earnest conviction that a true grower like himself possesses.
To contact Joe, pleas email info@emeraldcityorchids.com.
Joshua, Online Retail Manager
Joshua will be our baby duck. He has an intrinsic understanding of the plant business unlike any young person we've met before. When his wings come in, the sky is the limit in this business for him. He is responsible for our new website, online inventory and social media sites. It turns out Joshua is a talented vocalist, singing opera and jazz.
We see the ore of a great grower in this one and will begin to forge that into a future leader in this industry. Hopefully our customers will enjoy his enthusiasm for plants, especially aroids, as much as we do.
For any inquiries related to our social media, online store or inventory, please contact joshua@emeraldcityorchids.com.
Andres, Wholesale Manager
Andres and his partner bought a house recently and immediately converted a big chunk of it into a sunroom, where Andres is attempting to recreate the climate of cloud forests in the Oaxaca region, a daunting task. This is exactly the kind of crazy-shit plant nerd we want working here. Who does that?
Enthusiasm like his cannot be contained, merely focused in one direction or another. He will be good out the gate, but we intend to fill his head with orchid information and turn him loose on our most inquisitive customers.
For inquiries related to wholesale, please contact andres@emeraldcityorchids.com.
Ayden
Ayden is industrious and hard working. He helped pot up over 200 Aroids this past summer and when he dropped in to hang out at the start of his winter break, watching his eyes pop at his own work was supreme.
The plants he potted have grown considerably in a few short months, much like the man himself. He's already different than when he was here over Summer, more capable and confident with the plants, more mature as a person.
Daniel
Dan is a recent transplant from the east coast and a jack of all trades with extensive knowledge of aroids, graphic design, photography, and growing vegetables. His hope for his new home is to design, camp, and grow plants in that order.
Shaunte
Many of her friends call her "plant hospice", as one of her favorite things to do is rescue and rehab sick plants, and it is a testament to her kind and caring personality. In addition to her obsession with plants, indicative of her 150-plant collection, she's also an animal-obsessed artist who enjoys all things science, nature, and fashion. An avid gamer, adventure-seeking photographer, and huge foodie, Shaunte is a force of joy, and we are so lucky to have her on our team.
Marissa
We're pleased to welcome Marissa to the staff. She wandered in here how most folks do, looking for cool plants.

Marissa enjoys music and is a talented oboist. She's also got some of the nerd bona fides we look for when hiring, the extensive plant collection, pet frogs, and coral aquarium at home. Plus she's a gamer, Zelda being her jam.
She just started here part time on weekends, and she already fits in like she's been here for years. We like her and think you will too.