Ecuagenera & Wilson's Orchids Pop-Up & Fall Open House
We are excited to announce that our next Open House and Pop-Up will take place at Emerald City Orchids on October 27-29, with an exclusive Friday night halloween-themed preview party on the 27th! We can't wait to knock your socks off with an incredible selection and offerings from powerhouse Ecuagenera, Wilson's Orchids and some of the best orchid growers in the area.
Preview Night Costume Party
Friday October 27th 6-10pm
Ticket for this evening includes:
Catered Food & Drink
Live music performance in the greenhouse
first-pick/early access to the entire pop-up inventory
special plant prizes for best costumes of the night!
(more info below in FAQ)
Purchase Tickets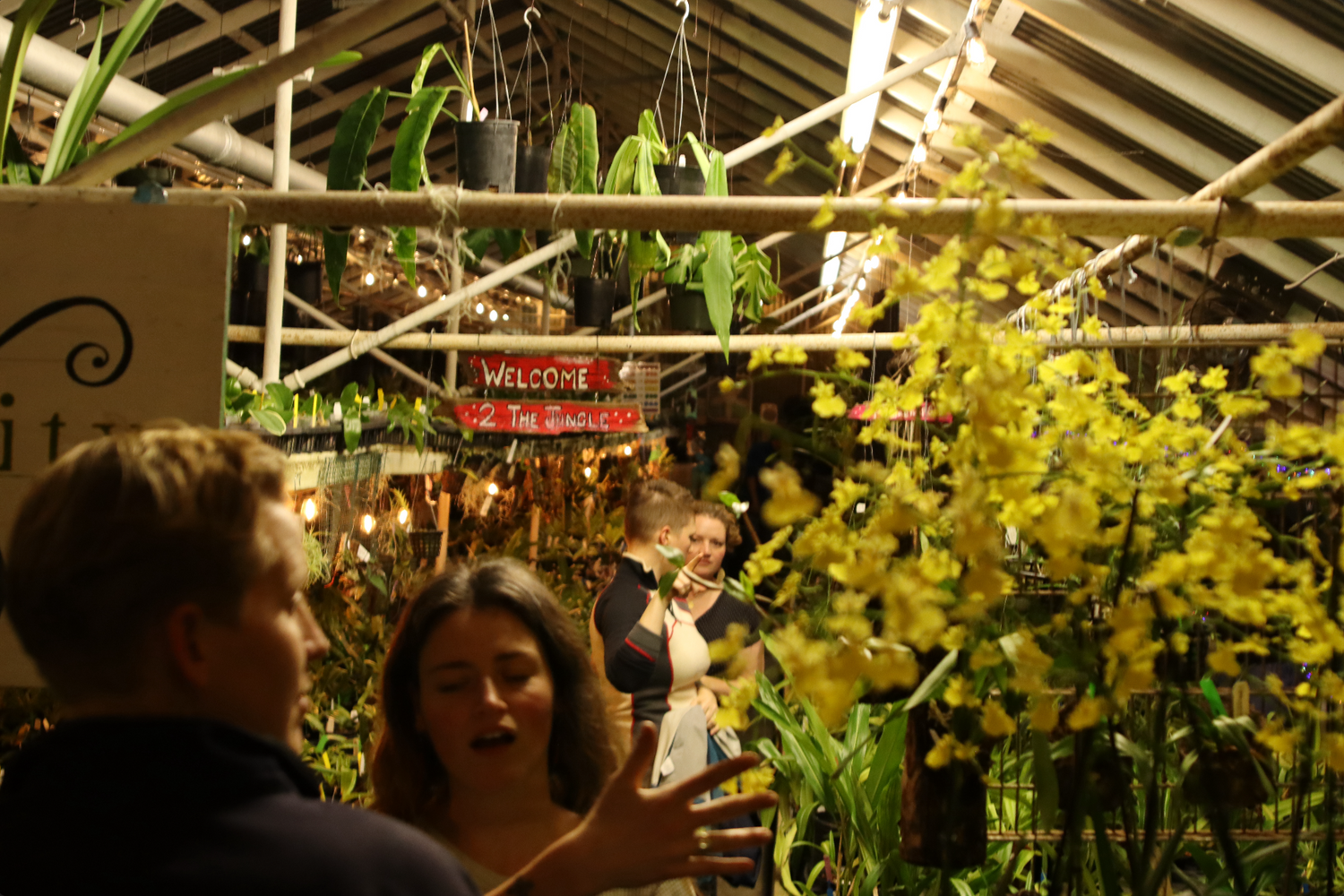 General Open House & Pop-Up
Sat-Sun October 28-19, 9-5pm
Come shop our entire ECO inventory at 20% off (discount applies on preview night as well)
Shop Ecuagenera, Wilson's Orchids and our other vendors' offerings as well
Event FAQ
What's new for this pop-up?

We'll be bringing in lots of talent from around the area. One of our goals has been to collaborate more with local and international businesses, and that is something we will hopefully get to implement more of with this next pop-up as well.

We will also have improved security during our next pop-up as well. There was a bit of a mix-up during the previous preview night, but we will be sure to check ticket confirmations, which will be sent electronically via email, more diligently at entrance.
Where/when is the open house?

Emerald City Orchids - 4734 South Tacoma Way, Tacoma WA 98409.

Friday Preview Night Party: 6-10pm, Oct 27

Sat-Sun Open House: 9-5pm, Oct 28-29

The preview night is a ticketed event (more info below in FAQ), and the rest of the open-house days are free and open to the public.
How do I pre-order for the pop-up?

Pre-Ordering from Ecuagenera for pickup at our pop-up will be available soon. If there's a plant you really want, we recommend pre-ordering it to eliminate the risk of us selling out of them or not having any. Shipping to the pop-up is only $2 per plant, in comparison to paying a full delivery fee for individual order delivery.

To pre-order from the Ecuagenera website, please select "Pickup at Tacoma Pop-Up" during checkout when available. We will sort and check each order individually upon arrival so that you can pick it up on any day of our open house.
How can I get entry into the preview night party?

We will be selling a limited number of tickets for entry to the preview party. Each person attending must have their own purchased ticket, one ticket per person. Purchase Tickets Here

For those who haven't attended our preview night before, it is a party that we host inside our greenhouse filled with live jazz, catered food and drinks, and exclusive early access to the entire pop-up inventory.

It's a must-attend event for anyone who wants first dibs on the selection, and it is also the kick-off of our 20% off open house sale for our greenhouse inventory!
Is a costume required for the preview night party?

No, but very much encouraged! We'll be doing a giveaway raffle for best costumes of the night, so come dressed up and ready to impress!
Does pre-ordering still get me preview night entry?

We are not accepting Ecuagenera pre-orders for our pop up as entry for the preview night party.
Any special deals to know about?

Yes! To express our gratitude to all of our customers, our entire greenhouse inventory will be 20% off for the duration of the event (not including other vendor products). This will be the perfect time to buy that plant you've been dying to have.

We also recommend coming Sunday, the last day of the open house, when there may be special last-minute deals.
For more information on the preview night, open house or pre-ordering, or any other inquiries, please email info@emeraldcityorchids.com. Hope to see you there!